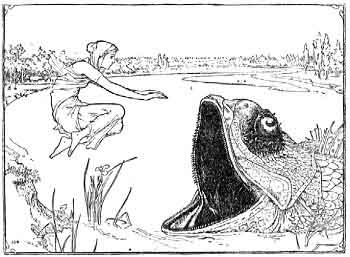 So for this weeks fairytale I decided to continue my world tour and traveled to India for this fairy tale.
Loving Laili
is a very strange tale. Khuda (whom I gather is a god of some sort) sent an angel to Laili and she is told she is to marry the Prince Majnun. She becomes obsessed and constantly says, "Majnun, Majnun; I want Majnun.". Eventually Majnun comes to her land but he leaves before she can marry him. For 12 years she continues to obsess and lament for her beloved Majnun. She eventually comes upon an angel who tells her to go to a river and jump into the belly of a large fish who will swim her to her Majnun. She spends another 12 years inside of the Rohu fish and has lost all of her teeth and becomes very ugly. All it takes is the touch of her beloved Majnun and in a fire she dissolves back in to her beautiful young self and Majnun becomes young again too. They marry and spend many happy years together when Khuda decides to test Majnun. He wants to see if the Prince will still love Laili if she is dead. There are a number such tests that happen before they finally are allowed to be together and happy. It is a very long tale but for the most part enjoyable. What I enjoyed the most was that Laili besides her obsession is very smart and wise whereas Majnun just comes off as a whiny oaf. It is amazing how much stronger and grounded Laili is. But that most likely has to do with all of the trials she goes through. She really has some horrible things happen to her while Majnun does not experience nearly close to what she does. I give this strange tale 2 and half out of 5 stars. Would have been higher but Majnun really ticked me off LOL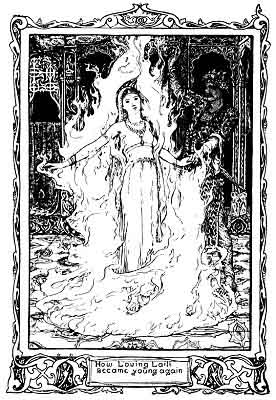 If you would like to join in on the Fairy Tales fun hop on over to
CarolsNotebook
and leave a comment on what Fairy Tale you read this week. Next week I'm going to hop to America and do a folk tale. I'm thinking Johnny Appleseed. What do you think?
Challenges Fullfilled
Fairy Tale