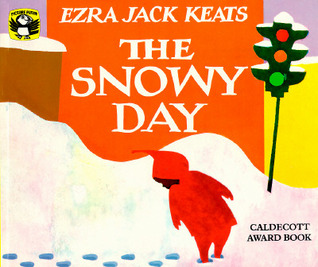 So I'm ashamed to admit that this was the first time I had ever read this book to my son. I mean come on it is a classic. I must have read it about 50 times as a kid and here I am..bad mommy that I am I have never read this one to my son. Well, I happily remedied that mistake and in doing so can cross another book off the 1001 book challenge.
Snowy day tells the adventures of one little boy spending the day out playing in the snow. He even puts a snowball in his pocket to play with later only to have it melt from being in his warm house. He dreams of the snow all melting but when he wakes up he discovers the snow is still there and that even more is falling.
This classic is just amazing. It really captures the fun of running out in the snow and all the things you do from making prints in the snow to dragging your feet to make looooong line tracks to making snow angels. This is just a fun book all around and it stands the test of time. It doesn't feel dated at all. And that iconic image of the little boy in his red snow suit is unforgettable.
My son enjoyed this one a lot and has already requested I read it to him a second time. So I'm pleased to have found another book to add to our permanent collection
5 out of 5 stars.