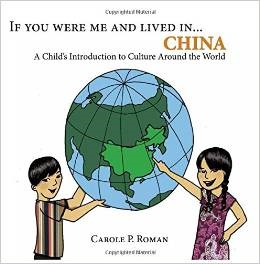 I've been entering a lot of giveaways lately for books. Especially picture books for my son. I was delighted when I won a giveaway for this book. I'm always looking for opportunities to expose my son to other cultures and thought this book was a great way to do that. China holds a special place for my family. A number of years ago my mother went to China with a family friend who was adopting a baby girl. This was one of the last major trips my mother took before she was diagnosed with MS. We still have money and souvenirs from her trip there.
The book is non-fiction and gives details of life in China. From the different foods they eat to different celebrations. The book goes into facts about geography and how many people live there. The book even tells what are some popular names for boys and girls born there.
I thought the book was great for introducing China to children who are not familiar with the country. My son's only previous knowledge of China was practically non-existent. He liked learning some of the words in Chinese and seemed to do well with sitting through the book. I was concerned when I first began to read it as it is very fact heavy. So this is not something I would read with the toddler set. But older children (5-8 years old) should have no problems with it.
I would say this was a 3 1/2 out of 5 stars for us.
* I won an autographed copy of this book. My review reflects my honest opinion and I was not required to review this book.
** This book was read with my 8 year old severely learning disabled son and reflects his opinion and how well he did with the book.