As I approach a new healthier lifestyle I've realized that if you cant eat you might as well play! Here are all amazing items made from felt. These shops are so creative and talented! All shops have less than 30 sales so lets send some love their way. If you have an
etsy
account (you can sign up for free) please favorite their shop or heart a few of their items. Or better yet buy something as these would make gifts for the holidays, birthdays, parties, sleepovers etc.
CharvetCreations

based out of Titusville, Florida is run by a stay at home mommy. Whenever her two children take a nap or are in bed at night this mommy goes to work making her creations. Many of them are inspired by her kids- 1 boy and 1 girl. Her shop is full of so many different things such as jewelry, booboo bunnies, bookmarks, and even birdhouses! Check out her shop and some of her great Halloween

items. Here are some of her yummy felt creations (my favorite is the smoores one!)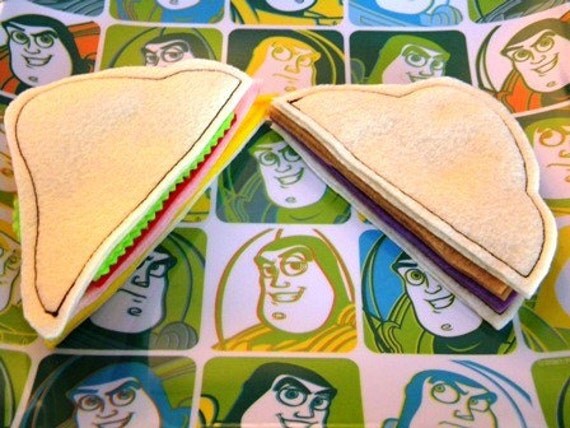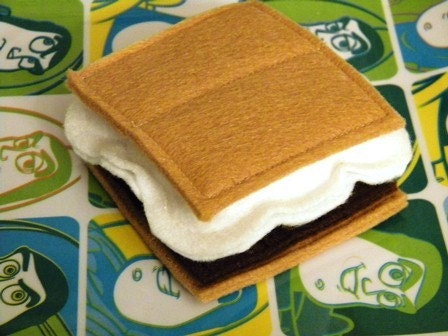 ashinybeetle's
shop run by Yuki is a fairly new shop to Etsy. Not only does Yuki make gorgeous felt play things but she also makes some beautiful hair accessories. Her pansy hairpins are so cute any little girl would love to wear them! There is even a super adorable dinosaur mobile in her shop. My favorite item would have to be Blueberry Banana Cup Cake!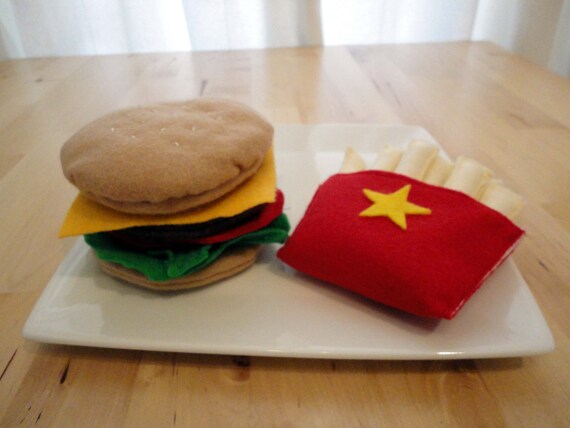 KennasFeltForest
based out of
Hickory, North Carolina is run by yet another stay at home mommy. Her two daughters are Kenna and Quinnlyn. She has been crafting items for her daughter Kenna since before she was born. Note only does this mommy create cute play food items she also creates awesome notecards and has crafted some snazzy bow holders. I've fallen in love with the Waldorf sandwich!
The
PemberlySeamstress
is run by fellow book lover Emily Muller from Thousand Oaks, California. The second I saw her shop and saw her Anne of Green Gables items I knew that I had found a kindred spirit. Not only is she a fan of Anne girl but she is also a big Jane Austen fan! She often has tea parties with her kids. This new shop opened back in January. Now then if only I could get a bite of Diana's Salad!
LittlePeanuts3
is another new shop that is based out of Lafayette, Indiana. This shop run by Prudence Clark is filled with some wonderfully crafty item. She has some super cute headbands, and baby dresses that makes me wish I I had a little girl to put them in. She also has bracelets and cute decorated snowmen. But the item I love the most is her butter and green beans playset!